This was my third visit to Coorg in 2 month's time. When returning from our last visit to Coorg, we thought we had covered all the places – all that seemed to remain was Mallalli falls and we had planned to club it with some other set. But this thing of covering a district completely seems to be just an illusion!
Our trip as usual began early in the morning – this time we made sure the driver knew how serious we were about starting off on time. We were out of Bangalore by 5. By 8, we were hungry, unfortunately most hotels on the way were closed and as we crossed Hunsur we saw a few popular places which were full. We got into a small hotel and had some awful food – the place is not worth mentioning.
From here, we continued on the Madikeri road. Our plan was to cover Devarakolli falls, Devaragundi falls and Kalyala falls on Day 1, then go to Beedahalli and stay at Pushpagiri Homestay for the night and cover Mallalli falls, Abbimatta falls and Shivanasamudram on Day 2.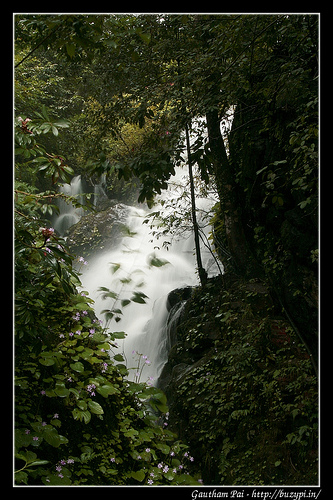 So we started heading towards Sullia taluk – the farthest point of our journey. The Madikeri-Mangalore road is nothing like the other parts of Coorg (which are filled with Coffee estates) – it is a road mostly downhill – with tall trees. There is a stream that follows the road almost all the way to Sullia taluk. You see quite a few small falls on the way.