This was my third visit to Coorg in 2 month's time. When returning from our last visit to Coorg, we thought we had covered all the places – all that seemed to remain was Mallalli falls and we had planned to club it with some other set. But this thing of covering a district completely seems to be just an illusion!
Our trip as usual began early in the morning – this time we made sure the driver knew how serious we were about starting off on time. We were out of Bangalore by 5. By 8, we were hungry, unfortunately most hotels on the way were closed and as we crossed Hunsur we saw a few popular places which were full. We got into a small hotel and had some awful food – the place is not worth mentioning.
From here, we continued on the Madikeri road. Our plan was to cover Devarakolli falls, Devaragundi falls and Kalyala falls on Day 1, then go to Beedahalli and stay at Pushpagiri Homestay for the night and cover Mallalli falls, Abbimatta falls and Shivanasamudram on Day 2.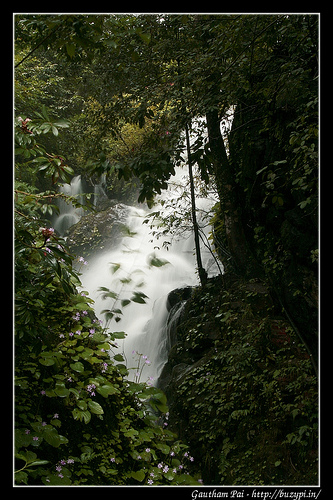 So we started heading towards Sullia taluk – the farthest point of our journey. The Madikeri-Mangalore road is nothing like the other parts of Coorg (which are filled with Coffee estates) – it is a road mostly downhill – with tall trees. There is a stream that follows the road almost all the way to Sullia taluk. You see quite a few small falls on the way.
This was perhaps the first trip in the last few trips where we never stopped on the way for snaps – the scenes of mist covered hills had become so common that we didn't feel anything was different!
Devarakolli falls is in the Devarakolli village – it is a small falls on the road side at a turning. We reached this place by 11. We took a few quick snaps and then continued on to Thodikana. We stopped at Devarakolli to take a few snaps of a wonderful stream. Looking at our equipment, a few villagers came over and asked us if we were from the media (we get this a lot 🙂 ). When we told them we were just photo hobbyists and are looking for interesting places, they asked us to check out the Payaswini river. It was just beside the point where we had stopped. So we decided to check it out. A small walk down a slightly slippery slope and we reached Payaswini river. The water was gushing at an amazing pace – at one point it hit a rock and was sometimes splashing to a height of 4-5 feet! It was powerful.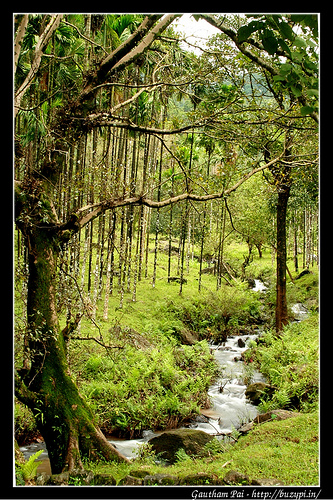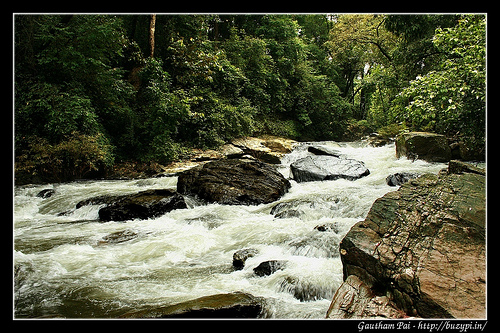 We then enquired about Kalyala falls and Devaragundi falls – we were told that it might be tough to cover both places on the same day. Further Kalyala falls is leech infested and we were advised to avoid it. The road to Mangalore from Madikeri is bad and it adds a lot to the commute time. We decided to skip Kalyala falls and go to Devaragundi falls directly.
We reached Thodikana Mallikarjuna temple at around 1:20 in the afternoon. The temple was closed. We were very hungry and so we had some food (bun and tea) in a shop closeby. We then enquired about the way to Devaragundi falls. We were told that the jeep can take us to a distance of about 1km and from there you need to walk. We decided to walk the entire distance as we didn't want to risk the vehicle getting stuck in the muddy path. The total walking distance was about 2.5km.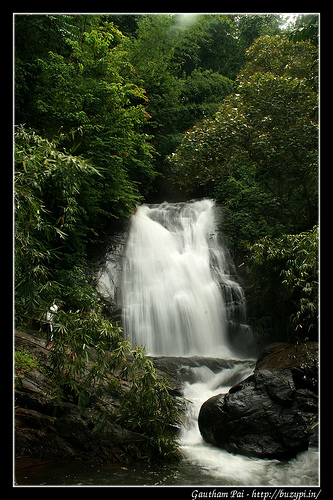 You first cross a small stream – and then you see a house where you take a U-turn. From this point, you get 3 houses. The 3rd house is where you need to enter their property and then ask them the way to Devaragundi falls. Cross another stream and you see this wonderful, cute falls – completely secluded from habitat. The water was crystal clear, the spot was clean unlike most other popular spots where you see some garbage thrown around. The water is calm until it gushes down and turns milky white instantly. We treated ourselves to a few snaps, spent some time appreciating the beauty of the falls and then headed back to Thodikana.
Just behind the temple on the right side, you see a spot called Matsya Teertha (or Meenugundi). This is a point where you can see large fishes – according to a board put up there, they have seen a fish that is 1.75m in length. We fed the fish puffed rice and took a few snaps of it. Fishing is prohibited in this area – it is considered a sin to kill them.
After this we started our long journey back to Madikeri – we had to go to Madikeri and then to Beedahalli via Somwarpet. It took us 4.5 hours to cover this distance to the homestay. It was 8:30 by the time we reached.
In order to make things a little more interesting, there was a misunderstanding between us and the driver. The driver assumed that our homestay is 5km from Somwarpet – we were almost out of fuel and he thought he will fill up the next day. It was about 20km from Somwarpet when he raised the alarm. He said we might only have enough fuel to last for another 10km. It was already night and we were not sure if we had enough fuel to turn back – the only option for us was to somehow reach the homestay and worry about fuel the next day. The rest of the few km to the homestay was very tense – we were not sure if we could make the distance – what if we don't, we were not even sure how much distance we had to cover to reach our destination. It was pitch dark, mostly secluded, and there is no power in this area. It is at this point, that you are reminded of stories of the tussle between humans and the wild elephants in Coorg.
Anyway, nothing like that happened – and we reached our homestay without any problems – it was just some thrill added to our journey to make it more interesting. 🙂
Pushpagiri homestay is very close to the Kumaraparvata peak. This area has no power – well, it is solar powered – you have a few small CFL bulbs but no fans. But if you are to compare it to staying in the wild, I would say it was amazing. You don't expect such cosy places and such hospitality in the middle of a jungle. We unloaded our bags and were treated to some amazing food. We were really hungry as we had small quantities of food throughout the day.
Day 2 experiences covering Mallalli falls, Abbimatta falls and Shivanasamudram (Bharachukki and Gaganachukki) here.