We went to Himavad Gopalaswamy betta and B. R. hills last weekend. The main intention of the trip was photography.
We left Bangalore on Friday night and reached Mysore early morning. There were some adhoc changes to our plan; we were supposed to go to Mysore by train, but later realized that a car is going to cost the same and so hired a car in the last minute.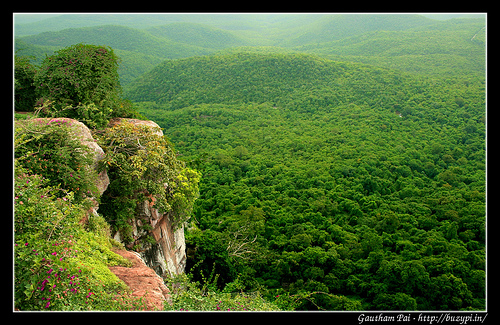 [ad name="blog-post-ad-wide"]
We left Mysore on Saturday morning at around 7:30 am and reached Gopalaswamy betta at around 10 am. We stopped a few times – for breakfast and to click snaps on the way.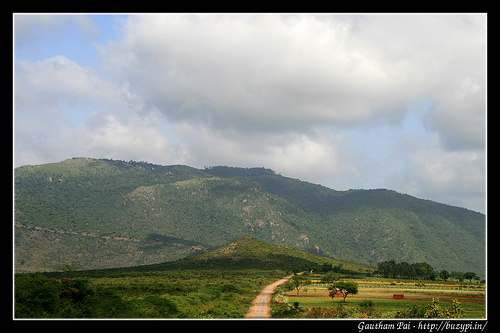 [ad name="blog-post-ad-wide"]
There are quite a few scenic places on the way, including sunflower fields and long road stretches with trees on either sides.
Gopalaswamy hill range seemed endless. If you check this place in Google maps, you will realize that this is a huge range covered with a lot of greenery. There were some elephant and deer sightings.
Here is a Google map of the route to Gopalaswamy betta from Mysore:

View Larger Map
We went on a short trek and clicked a lot of photographs on the way.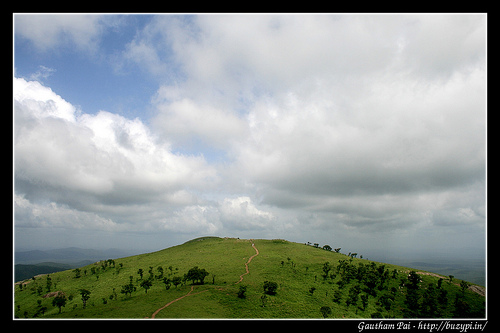 This was followed by a visit to the temple of Gopalaswamy (Lord Krishna). The temple was crowded but it was worth the wait.
We then left to B. R. Hills. We had miscalculated the distance to be 30 km from Gopalaswamy betta. But the distance turned out to be 95km! You first need to reach Gundlupet and from there go to Santemarahalli -> Yelandur -> B. R. Hills.
However, the road trip to B. R. Hills was amazing. As you enter the forest, you can see a sudden temperature drop and hear a lot of birds/insects chirping giving you a feel of the forest. There were lotus covered lakes, swamps, and a huge variety of colored birds on the way. This was accompanied by a light drizzle so the setup was perfect.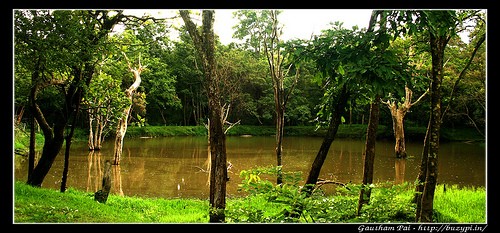 We first visited the temple of Ranganatha (Lord Vishnu). Then, we got to experience the sunset on B. R. Hills. There is a spot in one corner where you can see a steep drop and the stretch of the hills, covered with a lot of trees. This is something that you need to experience and is hard to describe in words.
We came back to Mysore in the evening. The roads back to Mysore was bad, but no one complained after the experience.
The next morning we visited Lingambudhi lake and Karanji lake. Lingambudhi had almost dried up, but had a huge bird density for the size of the lake and the time of the day.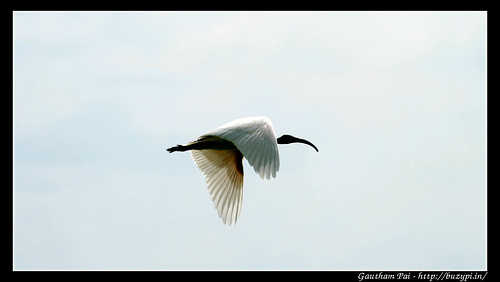 Our next stop was Karanji lake. Karanji lake and the park is like a mini Ranganathittu. There is a walkthrough aviary which is a treat for shutterbugs. There are quite a few birds in the lake, including the painted stork egrets etc. There is also a bird watch tower where you can (photo)shoot birds in flight. And add to it a butterfly park for macro-photographs and you can't ask for more!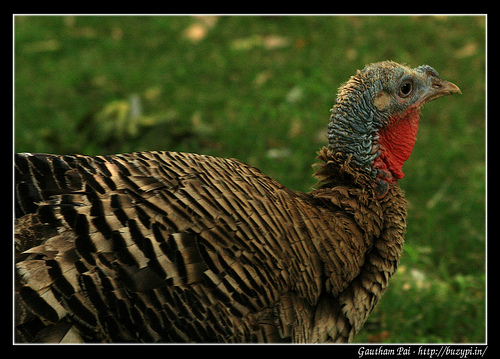 We came back to Bangalore on Sunday evening. Overall it was an amazing experience, and I yearn to go back again.