Our first trip in 2010 was to Chitradurga. Chitradurga is about 200km from Bangalore and is quite hot in the summers so this is the best time to visit if you intend to.
We had done the required preparations for the trip – mapping out all the places that we intended to visit and the distances to each of them and the things that we had to carry.
We left Bangalore at 5am in the morning. Our plan was to reach Chitradurga by noon with a visit to Vanivilas Sagar Dam on the way. The road to Chitradurga is very good; it is part of the North South corridor. The driver of our car felt like we had paid the price (toll) to rip on the roads and he was treated to a wonderful road where he was easily reaching 120-150 kmph (the maximum speed of an Indica).
We visited Vanivilas Sagar Dam around 10:15. Vanivilas Sagar Dam, aka Mari Kanive, is the oldest dam in the state. I had been to the dam just a couple of months back and so I knew that there is a way to the top.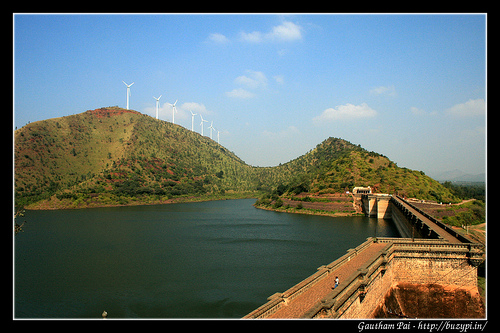 [ad name="blog-post-ad-wide"]