We went on a 3 day trip to Horanadu, Kalasa and Kudremukh from January 14th to 16th.
We started from Bangalore at around 5 in the morning. The route from Bangalore to Horanadu was mostly fine except for the last stretch. We took the following route to Horanadu: Bangalore (NH4) -> Nelamangala on to NH48 -> Kunigal -> Yediyur -> Channarayapatna -> Hassan -> continue on SH57 to Belur -> Chikmagalur -> Aldur -> Balehonnur -> Magundi -> Balehole -> Horanadu. The road from Magundi to Horanadu was not very good although it is very scenic. It is a stretch of about 40km.
You can very easily make out when you enter Chikmagalur district. The place becomes more green, you can see quite a few hills, lakes, areca nut trees, coffee plantations, and the air is cooler and pure. We clicked a few snaps on the way.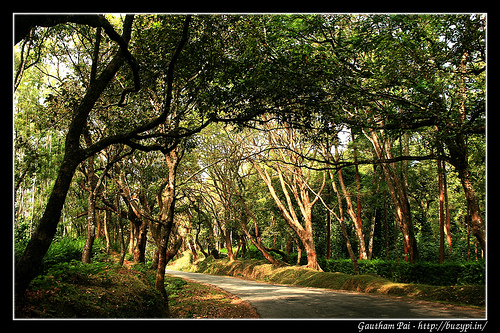 [ad name="blog-post-ad-wide"]

We reached Horanadu at around 1:30pm. We visited the temple, prayed to the temple goddess, Shree Annapoorneshwari, and then had lunch there. After a few more snaps, we headed to Kalasa.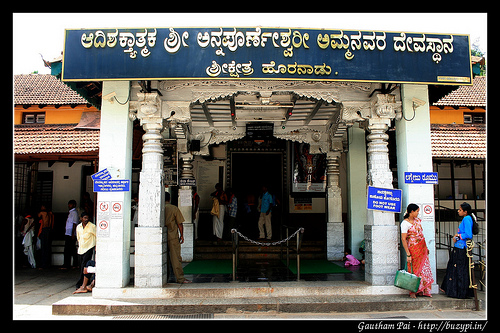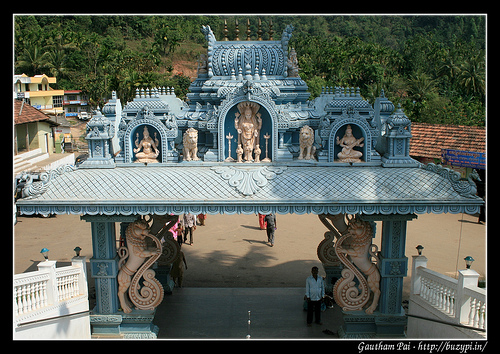 There are quite a few places in Kalasa and a shutterbug can easily spend a couple of days here. Our first stop was at Kotehole, then to Rudra Teertha and a visit to Amba Teertha. The road to Amba Teertha is not very good and it is recommended that you take a local vehicle. We spent quite some time at Amba Teertha.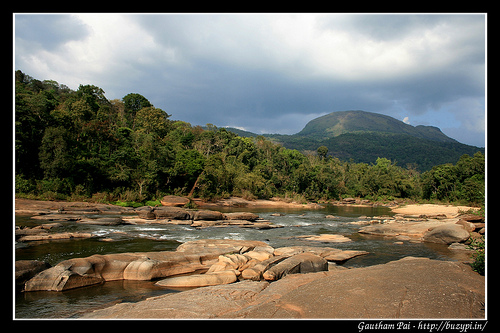 [ad name="blog-post-ad-wide"]

We then visited Duggappana Katte. This is on top of a hill and you can see the Kudremukh hill range, Ballarayana Durga etc from here. On the right is a hill which if you trek to the top, you can see Sringeri on the other side. Duggappana Katte is an ideal spot to watch the sunset.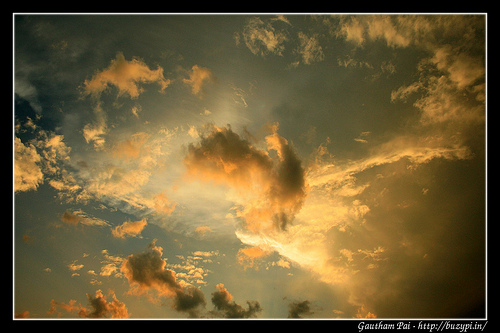 This was followed by a visit to Vasishta Theertha. It was dark by the time we came back from here and we called it a day.
Day 2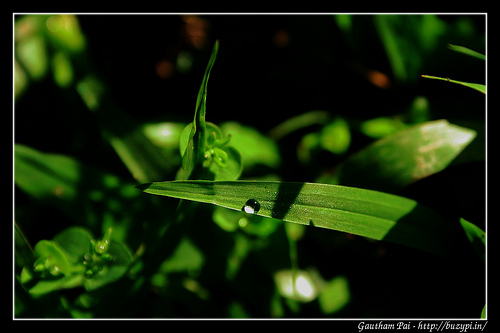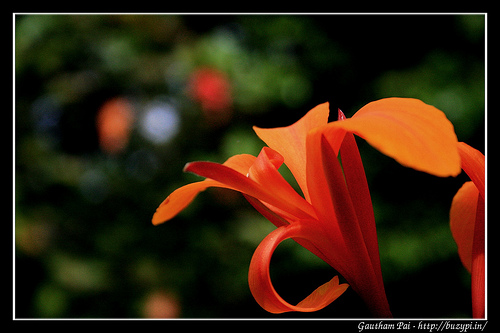 The next day, we woke up early in the morning and when we went out – we could see the early morning fields with a host of birds. It was a wonderful sight to see the sun rise behind the hills.
Later that day, we were taken around the fields by Ramesh's uncle. He showed us how arecanut is grown, how the seeds are accumulated, how coffee and vanilla is grown. He also showed us how they dry the coffee seeds and how we know when it is done. We satisfied ourselves with quite a few shots and also learnt some new things about the flora.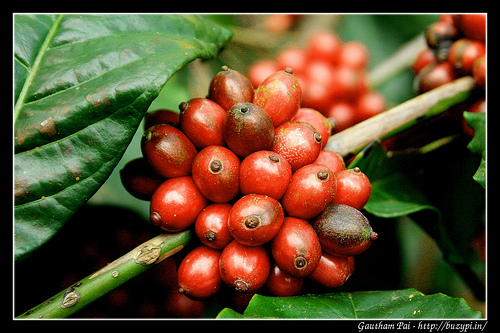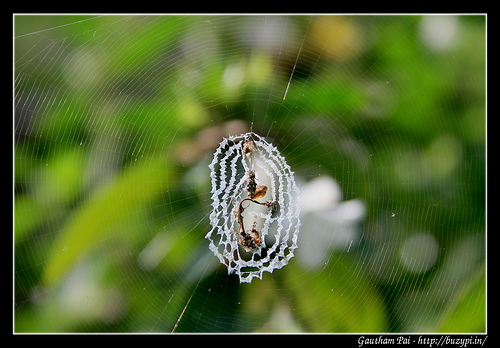 In the evening, we went to a tea estate nearby. With the permission of the manager, we were also shown around the factory – one of the guys explained the entire tea manufacturing process – right from the time when the leaves are brought in from the estates till the time when they are packed.
This was followed by a visit to the Kalaseshwara temple. Kalasa is also called Dakshina Kashi. Saint Agasthya is believed to have been born here.
Day 3
Our plan for day 3 was to cover places in Kudremukh. We started with Lakya dam. This dam was built by KIOCL to deposit the remains of the iron ore extraction process. This place has security and we were not allowed to enter the place nor photograph it – but the heights of the pollution can be seen in Google Maps.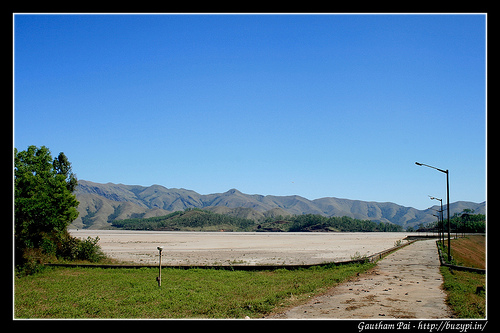 This was followed by a short visit to Bhagavathi Nature Camp. We enquired about their hikes and stay – walked for a while in the camp and then left.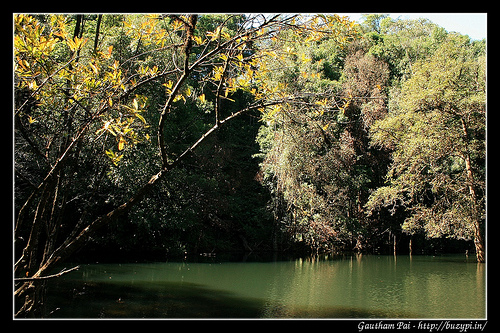 We then stopped at Kadambi falls on the way. There was too much of sunlight, so I was not able to get good snaps here. There was hardly any water either.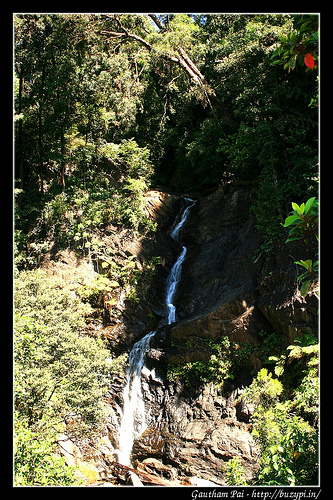 My last destination was Hanumangundi (or Suthanabbe falls). In order to reach the falls, you need to get down a small hill. There are steps all the way. There was enough water even though we visited this place in January.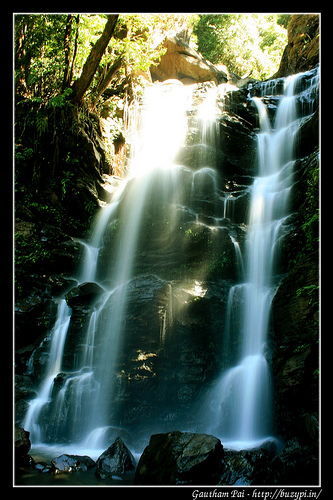 We then had a few slices of pineapples and watermelon and crossed over to Dakshina Kannada. This was the end of our 3 day trip. While Manja and Ramesh headed back to Bangalore, I went to my native place (Hiriadka).