We finally made it! Eclifox is now an Alphaworks technology.
So what is Eclifox?
In order to understand what Eclifox is, look at the screenshot below: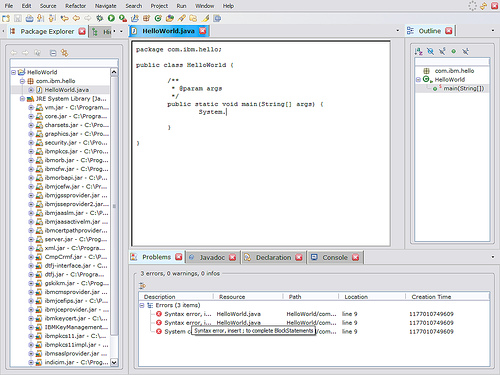 What do you see?
If you think that this is the screenshot of the Eclipse IDE, you are only partially right. Look again. It is Eclipse running in the Firefox browser!
Here is a flash demo of Eclifox. (Run it in full-screen). The demo shows the usage of Python and Ruby plugins from Eclifox.
A bit of history:
About a year and a half back I came up with a thought. How would it be if we were able to provide web based access to Eclipse functionality? Initially it was not clear how we could achieve this, but the idea seemed promising. So we thought we would give it a try by giving this of to a bunch of interns.
In came a group of 6 students who not only had the passion to complete this, but also the zeal to learn the technology required to make it work.
Hats off to the following interns who made it a reality:
Adarsh Ramamurthy
Karthik Ananth
Mohd Amjed Chand
Prasanna V. Pandit
Srirang G. Doddihal
Vikas Patil
The above interns from SJCE put their heart and soul to this effort and developed the whole thing in less than 4 months time. Personally, I enjoyed the 6 months time I spent on guiding these students. We have a stunned a lot of people within IBM with this idea. No one expected an internship project to get so much praise (or even criticism!).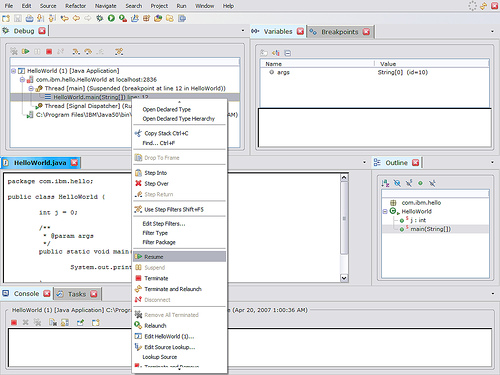 Thanks to Kiran who provided guidance throughout the course of this project. Also for spending umpteen hours in getting this on alphaWorks! Also thanks to several people who provided the support when it was required.
And now about the technologies used:
The basic idea is to include a plug-in in Eclipse that helps us interact with Eclipse to fetch UI definitions and also to simulate events on Eclipse. The technologies used are primarily Javascript (with XMLHttp) on the client side and Jetty as the server embedded in Eclipse. For more information read the alphaWorks page.

So try it out and let us know what you feel!